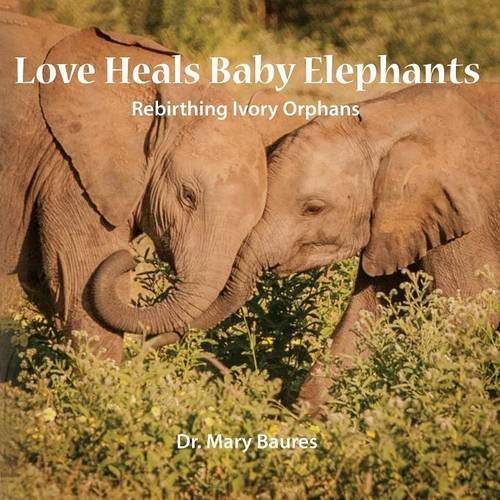 A Valentine's Day Promotion! Learn how Love Heals Baby Elephants for Valentines Day and share your love of baby elephants with this great valentine gift!
This Valentine's share your love of elephants with your family and friends! Proceeds raised will go directly to the GRI Elephant Orphanage in Zambia. The orphanage cares for elephant victims of the ivory trade providing a safe place of rehabilitation for elephants who have lost their families to the vicious attacks of poachers. We are partnering with African wildlife photographer, Mary Baures, who has recently written a book about these orphaned elephants.
Love Heals Baby Elephants: Rebirthing Ivory Orphans. When their families were massacred for ivory, their calves cowered in terror. Through love and community, they overcame trauma and bloomed, surefooted and joyous. Grown into  adults, they show us that being big doesn't mean using your strength to harm others.This is a magical story of resilience, healing. and hope. These orphans  teach us how to  come back when everything you had is gone. As a psychologist, Mary Baures specializes in helping people recover from horrific loss. She is an African wildlife photographer, who adopted four traumatized baby elephants who watched their families massacred for ivory. This book explores their miraculous journey back to trust and love. She is the author of Undaunted Spirits - Portraits of Recovery from Trauma, and many other publications on healing. Dr. Baures has a private practice in Beverly, Massachusetts. She is co-producer of the documentary film, Strong at the Broken Places - Turning Trauma Into Recovery. "This wonderfully written and magnificently photographed book about orphan elephants makes us understand the powerful similarities and connections between humans and animals. When we understand this, the slaughter of elephants for ivory becomes a crime against all we aspire to be as human beings." -Margaret Lazarus, Academy Award winning filmmaker of "Defending Our Lives."
She has given us exclusive access to her photographs creating a set of four coasters or a mousepad!
COASTER IMAGES:
---
MOUSEPAD IMAGES
---
Spread some love this season and help us save elephants at the same time.