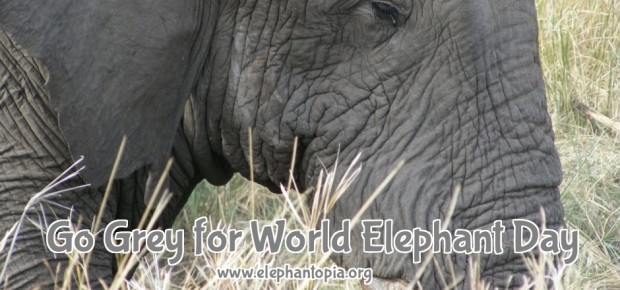 This year, #GoGrey for World Elephant Day! Use the photographs below for your social media profile pics. When people ask why, it's a great opportunity to share with them the facts about elephants:
elephants are a keystone species, that means the ecosystem (plants and animals) around elephants depend on elephants for their own survival.
one elephant is killed for their ivory tusks every 15 minutes
at this rate, elephants will be extinct in Africa as early as 2025
here's three ways to SAVE ELEPHANTS!

SPONSOR KAVALA: an orphaned elephant victim of the ivory trade. Her family was slaughtered by poachers and her survival depends on the generosity of people like you. Become a foster parent for Kavala today!
SIGN THE PETITION or SEND A LETTER: Elephantopia is working to ban ivory in Florida. Help us reach 100K signatures on our petition. Then send this letter to your own state or government leaders calling for an ivory ban where you live!
On August 12, Elephantopia will be participating in a World Elephant Day event in Gainesville, FL at First Magnitude Brewery with CIFAE (Conservation Initiative for the Asian Elephant). If you live in FL, consider joining us for this event! We've got live bands performing, opportunities to send "thank you letters" to rangers in Africa and Asia working to save elephants, interactive experiences to learn about elephants and even activities for the kiddos!