NEW! We've recently partnered with The Elephant Pants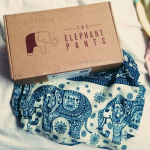 company - use the code "ELEPHANTOPIA" at checkout to receive a 10% discount and they will donate 10% of sales back to us for Kavala!
---
FOR THE ELE-ADVOCATE:
Visit our store for apparel, drink ware, stickers and more to let the world know that you say NO to IVORY
FOR THE ART-LOVER:
Check out our Artists for Elephants page for unique, limited edition artwork that goes towards Kavala's care and management. And if you're looking for Elephant Photograph Prints, peruse the Chisler Photography gallery. 
FOR THE COFFEE DRINKER:
Our friends at Safari Cup coffee company give $2USD back to GRI for every bag of coffee sold. Head over to order coffee that benefits elephant conservation efforts in Zambia!