Looking for some good reading material on elephants? Here are some books I have read and can highly recommend. This page will be updated as I continue expanding my knowledge on these fascinating creatures.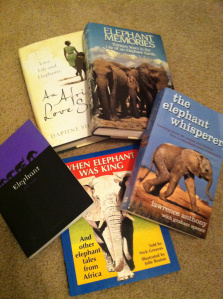 An African Love Story: Love, Life and Elephants by Daphne Sheldrick
Elephant by Dan Wylie
Elephant Memories: Thirteen Years in the Life of an Elephant Family. Cynthia Moss.
The Elephant Whisperer: Learning about life, loyalty and freedom from a remarkable herd of elephants. By Lawrence Anthony with Graham Spence
When Elephant was King and Other Elephant Tales from Africa. By Nick Greaves.
If you have elephant books to recommend, please share. Happy Reading!